Custom Dentures at PresiDental Smiles

Dentures provide an economical and efficient solution for replacing multiple teeth at one time. While our goal is to preserve your natural teeth for as long as possible, issues such as injuries or disease may interfere with tooth restoration. Instead, you may prefer a removable denture.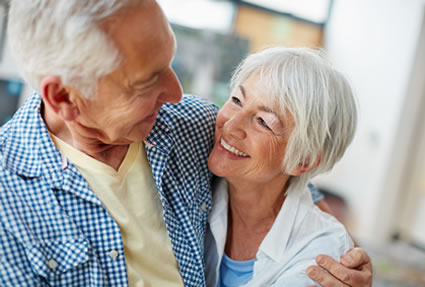 Full and Partial Dentures
Traditional removable dentures can be full or partial in nature. A full denture replaces all of the teeth in your arch with a single prosthesis. On the other hand, partial dentures clip into place around the natural teeth you're able to retain.
Implant-Retained Dentures
If you're concerned with maintaining a secure, comfortable fit to your denture, an implant-retained option is an excellent choice. These dentures are removable but they snap onto implants in your mouth for added stability throughout the day.
The extra reinforcement makes everyday activities like eating and speaking easier than wearing traditional dentures. Our in-house oral surgeon will place your dental implants, so there's no need for a separate referral.
Transitioning to dentures is more of a lifestyle change than what most people realise. Our dentist will work closely with you to help you understand the expectations of what this change means for your smile. As you gain a clear perception of what dentures have to offer, you can decide whether or not they're right for you.
Getting dentures typically requires about four weeks from start to finish. We'll send you home with a care package and instructions on how to look after them each day. Plan to remove them nightly and clean them as directed. We'll want to re-evaluate your mouth and denture fit on a frequent basis until you are comfortable transitioning to your new appliance.
Schedule A Visit Today
Efficiently replace your missing teeth with a conventional or implant-supported denture system. You could have a new smile in about a month. Contact us today to get started.
CONTACT US

Dentures in Ringwood North VIC | (03) 9013 0100