Porcelain Veneers at PresiDental Smiles

Porcelain veneers are made of thin sheaths of medical-grade porcelain. Thanks to their lifelike appearance, your dental veneers will look just like real teeth.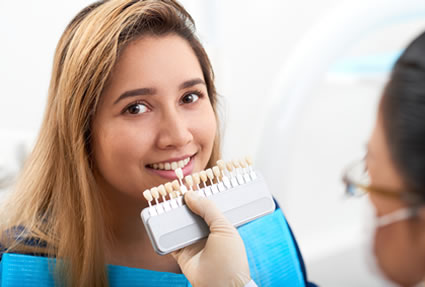 What Are Porcelain Veneers?
As one of the most popular and established enhancements in cosmetic dentistry, porcelain veneers have been helping men and women achieve camera-worthy smiles for decades.
Although initially developed to light up the smiles of Hollywood actors, porcelain veneers are a favorite among people who want a natural-looking way to improve the appearance of their teeth.
Ringwood North dentist Dr. Gardner bonds these veneers to the surface of your teeth to correct a number of imperfections and deliver a flawless smile.
Veneers can treat multiple imperfections in your teeth, leading to a perfect smile. Dr. Gardner is one of your best bet for determining whether you should get veneers, but you may be a good candidate if you deal with any of the following:

Discoloured teeth
Worn down teeth
Chipped or broken teeth
Crooked or uneven teeth
Gaps between your teeth
Irregularly sized or shaped teeth

You may not qualify for veneers if you have any of the following dental problems:
Tooth decay
Gum disease
Root canal infection
This treatment mimics the light-reflecting properties of your own tooth enamel, delivering a natural smile that blends right in. To match the shape and color of your teeth, Dr. Gardner uses digital imaging systems to design your new teeth.
Aside from beautiful results, benefits include:
Durable and long lasting
Fully customizable to match neighboring teeth
Stain resistant
First, Dr. Gardner evaluates your smile to determine whether dental veneers are your answer. He discusses your concerns and goals and then customizes a treatment plan for you. He may recommend combining veneers with another treatment, such as teeth whitening.
Then, he prepares your teeth for veneer bonding by removing about half a millimeter of enamel from the surface of your tooth. This is about the same thickness as the veneer he adds. He may use local anesthesia during this step.
Get a Radiant Smile Today
If imperfections are distracting from the radiant beauty of your smile, call PresiDental Smiles today or book an appointment online to learn more about porcelain veneers.
CONTACT US

Porcelain Veneers in Ringwood North VIC | (03) 9013 0100