Gentle Root Canals at PresiDental Smiles

Root canal treatment is a common, simple therapy used to save teeth. When the nerve and blood vessels inside of a tooth become infected or inflamed, endodontic treatment is typically the last line of defence.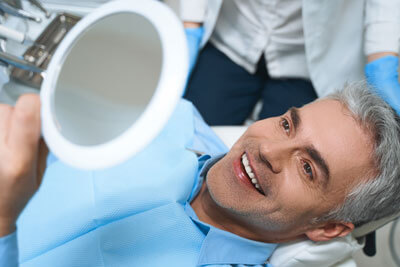 Visible trauma, decay or deep cracks can cause the pulp to abscess or die. By removing those tissues from the centre of the tooth, we can eliminate the need for an extraction. Root canal treatment provides an excellent solution for prolonging the function of your natural teeth.
Symptoms of Abscessed Teeth
Infected or dying teeth are not always obvious. Some of the most common warning signs include
Sensitivity to hot temperatures
Pain when biting down or applying pressure
Darkening of your tooth
A small pimple or blister on the gums
Hypersensitivity to various foods and drinks
Throbbing or toothaches
Past trauma to that specific tooth
What to Expect
Getting a root canal is gentler than most people realise. We will thoroughly numb your tooth to ensure you're as comfortable as possible throughout the visit. Our room is also designed with a calm ambiance—including relaxing music and dim lighting—to put your mind at ease.
During your treatment, we will remove the inflamed nerve tissues and then seal the tooth to prevent microbes from re-entering the nerve chamber. Depending on the integrity of your tooth structure, a crown is usually recommended.
Before your treatment, we will review any risk factors to consider. More complex scenarios may occasionally be referred to an endodontic specialist. Fortunately, most root canals are quite straightforward, providing a high success rate for our patients.
Reserve an Appointment
Do you have an abscessed or painful tooth? Endodontic treatment can help you avoid an unnecessary extraction. Reserve an exam today for fast pain relief.
CONTACT US

Root Canal Treatment in Ringwood North VIC | (03) 9013 0100